Simple triangles wrapped in battery operated micro-dot lights or dressed in your finest holiday baubles create stunning tabletop décor for this festive season. 
Shopping List
• 8' of 3/16" dowelling 2624-442
• carpenter's glue 2020-173
• battery operated warm white micro-dot lights 5640-051
• designer ornaments from Home Hardware Holiday Collections
Here's How 
Tree frames: 24", 30" and 36" trees
• Set mitre saw at 15 degrees and cut the sides: 2@24", 2@ 30" and 2@ 36".
• For the top peak (DO NOT CUT FREEHAND) clamp the pieces and cut. Glue and nail the tops together.
• Measure the width of the bottom piece and cut at a 15-degree angle.
Tree bases:
• Cut two 1" x 4" pieces, sized 6" less than the bottom length of the tree (3" on each side).
• To make the opening for battery storage for the lights, rip 3/4" off the bottom piece, then cut 1" off each side. 
• Glue and nail the two base pieces together. Glue and nail the base to the bottom of the tree. Sand and smooth.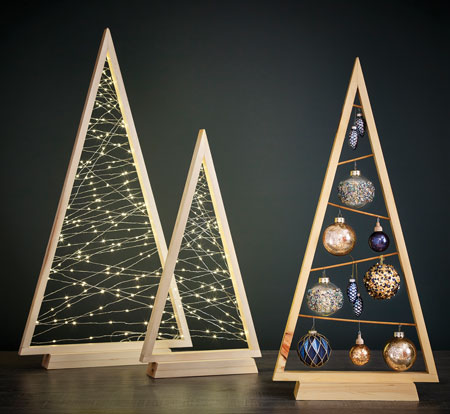 Lighted Tree (see picture)
• Nail 1" finishing nails spaced 1/2" apart on both sides of the back of the tree.
• Weave the micro-dot light strings around the nails leaving enough string to tuck each battery pack into the base. 
Ornament Tree
• Lay the tree flat and arrange your ornaments to determine the placement of the dowels. Mark both sides where each dowel should be placed.
• Drill the holes at the angle corresponding to the dowel marks.
• Cut the dowels a little longer than required.
• Insert dowels through the holes with a dab of glue on each end. Wipe off excess glue. 
• Let dry. Sand and smooth dowel ends flush to the tree.